From my recent essay in The Paris Review Daily, in which I uncover links between vintage Arabic noirs and contemporary graphic novels in Egypt:
[A] modern-day equivalent of pulp is the graphic novel—an emerging medium that illustrates the divey corners that sleuths and skirts frequented a half century ago. Metro, by Magdy El-Shafee, is known as the original Arabic adult comic book, and it's a kind of Cairo noir: on the first page, a beleaguered young computer programmer decides to rob a bank. When it was first published in 2007, Egyptian authorities seized all copies from the publisher, though the reason remains a mystery. Was it the narrator's harsh antiregime attitude, his use of nudity and expletives, or the publisher's activist reputation? The book was republished in Cairo after Hosni Mubarak took a fall, but it's still hard to find in Arabic. (It's on sale worldwide in translation.)

Whatever the reason for the comic's censorship, its notoriety provoked other young artists to engage with noir aesthetics in telling contemporary stories of depravity. Ganzeer, the pseudonym of a thirty-two-year-old graphic artist whose art installations and graffiti are landmarks in Cairo and elsewhere, is inspired by Metro's antihero. "Of course you could relate to someone opposing the government, opposing the police, more so than you can relate to this idea of a noble police officer who has to solve crimes for the greater good," Ganzeer has said. This is the common thread between the new graphic novels and noirs of old: don't trust the law.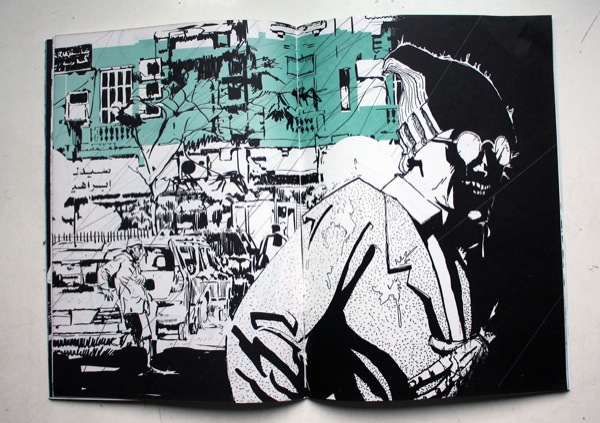 Detail from Ganzeer's illustration / The Apartment in Bab El-Louk, by Donia Maher, Ganzeer, Ahmed Nady, 2014.